Kufstein – Do you know the pearl of Tyrol?
The picturesque Kufstein at the river Inn invites you to visit the fortress and the beautiful old town.
Kufstein Fortress: History of Bavaria and Tyrol
First documented in 1205, the fortress owned by the Bavarian Duke Ludwig was often a focal point of military conflicts between Bavaria and Tyrol. Hence, it came into alternate ownership:
Margarethe "Maultasch", the Duchess of Tyrol, received the fortress in 1342 from her husband, Ludwig of Brandenburg (son of Emperor Louis of Bavaria) as a gift. When Margaret handed over all of Tyrol to the Habsburgs in 1363, the Bavarians invaded Kufstein to regain it.
During the reign of the Habsburg king Maximilian I the fortress was conquered and thus came in the possession of the House of Habsburg in 1504.
In the course of the War of the Spanish Succession Kufstein again got under Bavarian siege in 1703 but was returned to Austria after one year.
During the time of Napoleon, Tyrol got under Bavarian rule until 1814 when it was once more returned to Austria. After the First World War, the fort was eventually sold by the Republic of Austria to the town of Kufstein.
Visit: the fortress can be reached either by foot or with a very beautiful panorama train. For both options a ticket must be purchased for 12 €. At the top you can enjoy a beautiful view and visit the museum as well as the emperor´s tower with the former state prison or torture chamber. The entrance fee is worthwhile in any case.
Kufsteiner Old Town
The old town boasts several impressive Art Nouveau buildings and famous wine houses, includ-ing the "Auracher Löchl" where the famous song "Kufsteinlied" was written by Karl Ganzer. The baroque tower of the parish church of St. Vitus dominates the city center. The City Council of Kufstein shows the seals of Tyrolean towns – including Bolzano and Merano – with that of Kufstein under the gable top.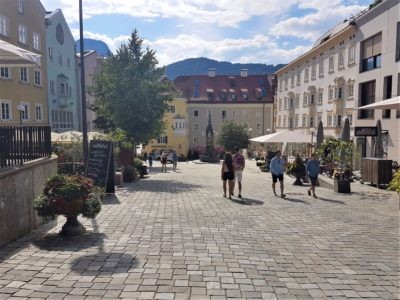 Restaurants
"Hans im Glück"
After paying a visit to the fortress you can enjoy a burger the grill bar named "Hans in Luck". The restaurant convinces by the excellent taste of its dishes and creative drinks variations.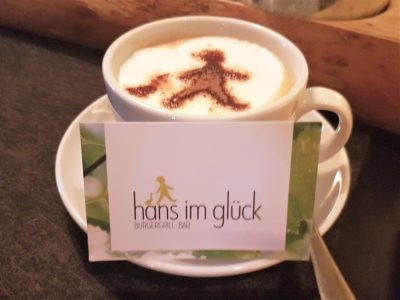 Souvenirs
Riedel Wine Glasses

The company "Riedel" is known for its high-quality wine glasses far beyond Austria. In Kufstein you can find the show glassworks and the company´s shopping outlet.